I have been seeing and reading advertisements about FastestVPN all around the internet with constructive reviews, trustworthy privacy features, blazing speed, and reliable security. FastestVPN has all the glowing features that a tech-savvy person loves – basically, features that show you how essential it is to protect your data, privacy, and devices while using the internet. So, I've taken the time to test FastestVPN and see where the hype truly lies.
Living in a digital world where everything is moving expeditiously, this provider has prompted me to try its software thoroughly. There are severe technical and virtual vulnerabilities that need to be addressed before you put yourself in danger.
VPNs are reliable virtual security guards that mask your internet activities. Using a VPN, you can put a long-term security lock on your internet data that only you can access. A VPN is obligated to route your virtual traffic through encrypted, safe, and secure tunnels from the prying eyes of the ISPs and third-party internet criminals.
FastestVPN Review
FastestVPN comes as one of the best privacy-friendly VPNs in the market in 2022, as seen by the user reviews of the masses. This Cayman Islands VPN provides users with a decent number of servers, dedicated features, blazing speeds, and an outstanding no-log policy with numerous extraordinary security measures. It further secures your connection with military-grade encryption.
These are just a couple of features that noticeably stand out. This FastestVPN review will give you a complete insight into how the software performs.
FastestVPN Overview
Packed with top-notch features, I tested the VPN, speed, and capacity and found significant advantages and disadvantages of using FastestVPN worldwide. However, to know how it works, you'll need to test the VPN out independently, as all user experiences vary.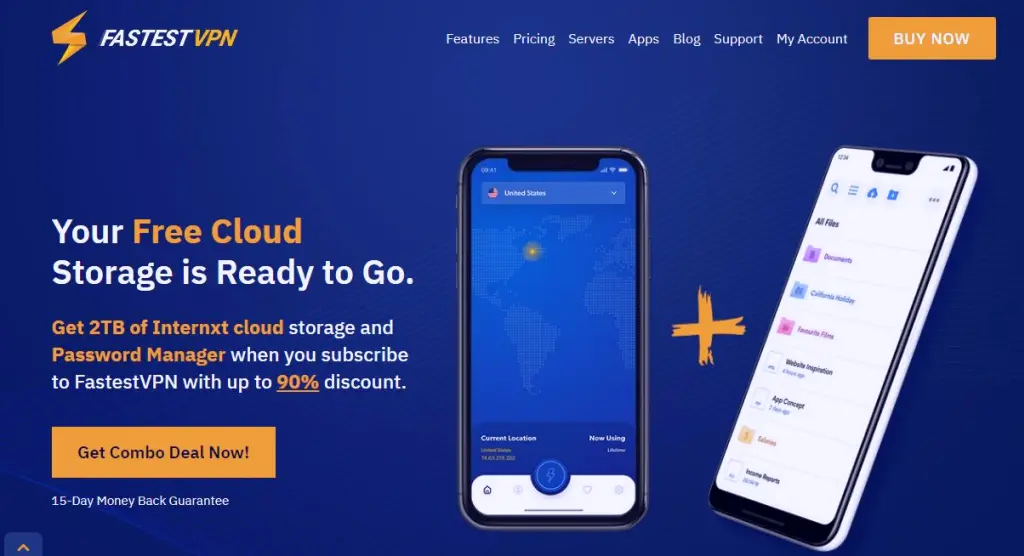 The internet is full of data threats, fraudulent acts, cyber extortion, malware, etc. Being particular about my privacy, I always prefer using a Virtual Private Network. Since using a great one comes with perfect results. Where the best privacy features and security are concerned, FastestVPN ticks all the boxes.
Moreover, it offers suitable subscription plans with the cheapest pricing range that maintains sustainability. Well, that's only an overview; you can read about the perks and benefits of having FastestVPN with comprehensive details on the worth of using these best privacy protocols and significant security measures. Let's get started on it!
Fastest Speed & VPN Servers
The speeds and servers of any VPN play a considerable part, with most users after streaming services that aren't available. Personally, Disney Plus and Hulu content were difficult to access, considering I live in Northern Europe. Plus, no one likes buffering or lagging issues, which is something a VPN needs to fix or at least stabilize.
In this regard, I tested the FastestVPN USA servers (Dallas, Miami, and New York) as recommended by the support chat. The results were satisfactory, not as great as other providers, but it worked smoothly. Additionally, I connected to the UDP protocol and got faster results.
Moreover, FastestVPN operates 550+ servers in 50+ locations with a dedicated speed that can never leave you off guard with any buffering or discontinuation of the connection.
ISP throttling is another major issue, which is the cause of defunct speeds. FastestVPN helped bypass it, which is not something just every VPN can do.
Robust Privacy & Internet Security
Being concerned about my privacy and security, I tested FastestVPN with several web browsers and digital media applications. When connected to FastestVPN, I attended work meetings and sent private emails.
I even connected to the public WiFi at my favorite coffee outlet and didn't find any loopholes or privacy threats while connected to the VPN. Besides, I masked my geographical location and made it a habit to do so whenever I'm on the go, so no one could follow my tracks – as everyone should!
I had installed FastestVPN on a couple of operating systems, mainly to check how each OS app differs. Most of the apps had an in-built anti-malware feature.
FastestVPN has some great features that most users overlook; just because it's affordable. Some include a Kill Switch, AES-256-Bit encryption, and Split Tunneling. Now we discuss each of the FastestVPN features in detail:
VPN Protocols and Encryption
FastestVPN offers AES 256-bit encryption, which currently is the highest standard to protect your connection.
Other than that, VPN encryption protocols have different functionalities, with OpenVPN usually being the most preferred choice. FastestVPN offers IKEv2, OpenVPN (UDP/TCP), IPSec, OpenConnect, and L2TP.
I used the UDP protocol mainly for streaming and got rid of the low latency on certain apps that took a lot of time to load content or startup.
Using the internet without a Virtual Private Network that guards your internet traffic against any dangerous cyberattacks is not the best security practice.
Access to geo-restricted services globally
Geo-restricted media sites like Netflix, HBO Max, Disney Plus, and Hulu are always on the bucket list of media enthusiasts to get a connection while traveling abroad or residing in a region where these best entertainment sites are blocked.
I launched my VPN and connected to a Dallas server, and managed to unblock Hulu, US Netflix, and other US streaming sites. Throughout my streaming time, I faced a connectivity drop twice, and well, that's considered normal since my location is farther off from the US.
Besides, I unblocked several sites that I couldn't access before. After switching to different VPN servers, watching shows like "We Own This City" and "The Staircase" on Hulu; was now possible. This is another tremendous advantage that FastestVPN offers.
I proceeded a little further and tested the streaming services that FastestVPN's customer support suggested. Here's a list:
Services working on FastestVPN USA Streaming server:
ESPN
ESPN+
ABC
CWTV
DAZN
Discovery+
Disney+
Amazon Prime Video USA
CBS
Fubo TV
HBO Max
Peacock TV
Redbox
Showtime
Sling TV
Hulu
Netflix USA
Pandora (Music app)
Paramount+
Spotify (Music app)
YouTube TV
Streaming Services working on FastestVPN India Streaming server:
Spotify (Music app)
Tata sky
AHA.video
Hoichoi TV
Hotstar India
Mx Player
Amazon Prime Video India
Gaana.com
Netflix India
SonyLiv
Voot
Zee5
Streaming Services working on FastestVPN UK Streaming server:
Amazon Prime Video UK
BBC iPlayer
Disney+ UK
ITV Hub
Netflix UK
Channel 4
Channel 5
Trustworthy to Detect Viruses
Since this VPN comes with built-in anti-malware, it takes care of malicious traffic that invades your privacy. FastestVPN delivered on all these privacy and internet reliability demands that most VPNs fail to consider.

Previously, I was very skeptical about my virtual activities, even though I used several VPNs to protect my systems. I tested it on my Windows to check full functionality – it worked. Moreover, I comfortably stopped checking and deleting all the unknown emails immediately since malware attacks were my main issue in the past.
Compatible With Multiple Devices
FastestVPN is compatible with all devices that are primarily popular or widely used. It includes Firestick, iOS, macOS, Windows, and Android. I tested its apps for several machines, and each worked well, although the iOS app could use a little more attention for updates. FastestVPN worked well for Fire TV Stick.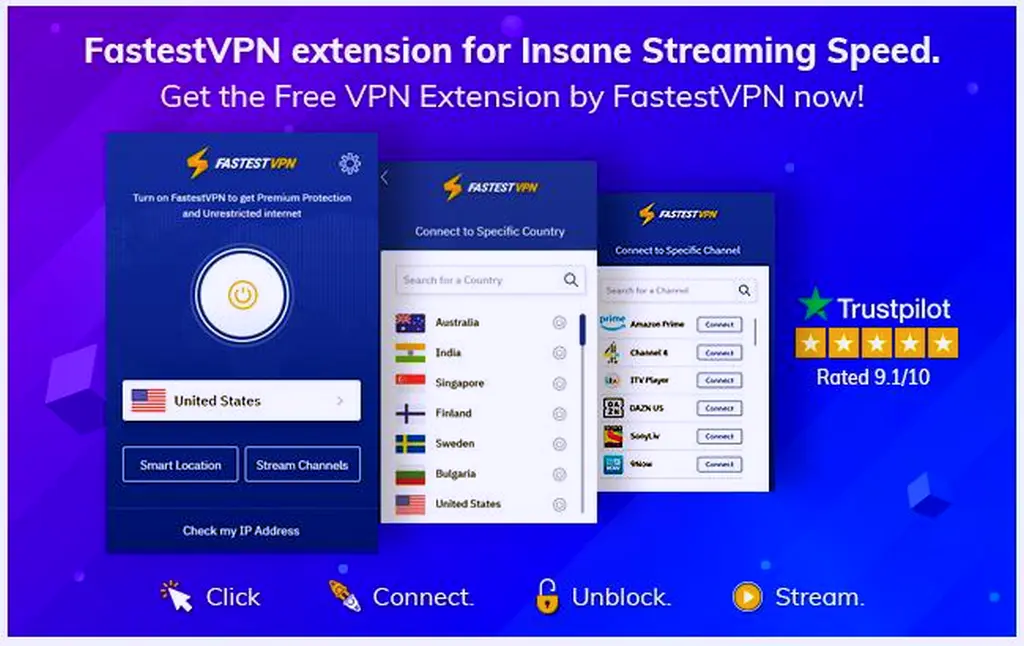 Furthermore, FastestVPN was running smoothly with all browser extensions such as Chrome, Firefox, and others. It's a shortcut version to use your VPN on several websites flooded with ads, considering the app offers an ad-blocker for extensions.
Reasonable Pricing & Best Subscription Plans
With all the premium features that a good VPN must offer, FastestVPN comes with reasonable pricing and suitable packages for even the average user! You can check below that these subscription plans are worth having for a lifetime. Plus, you are getting ten simultaneous connections, and that's pretty great for such a small price.
Here are three premium packages to subscribe to:
$10 per month (1-Month Plan)
$29.95 billed annually (1-Year plan)
$39.95 billed triennially (3-Year Plan) MOST AFFORDABLE

Additionally, what sets FastestVPN apart from other providers is that even at affordable prices, they're offering a free 2TB of Internxt cloud storage and Password Manager over all the packages.
Does FastestVPN offer a free trial? No, it doesn't. However, knowing that its price is barely $1.11/mo. And for three years, that's considered practically free. There is a 15-day money-back guarantee that you could use for tests and if you don't like the service, feel free to state your reason to the customer support within those 15 days. Read the policies carefully – that's a personal preference!
Also Check: IProVPN Review 2022 – How Secure Is IProVPN?
Final Verdict – Do I recommend FastestVPN?
Yes, I do recommend it.
FastestVPN ranks among some of the best VPNs in terms of privacy and security – with its affordable price being the cherry on top. Since it ticks all the boxes about actual VPN characteristics, it's what matters most.
FastestVPN has the best torrenting and bandwidth. Using the AES-256-Bit military-grade encryption, you can protect your data from cybercriminals and limit it only between the encrypter and decrypter.
Moreover, this VPN service will save a lot of time and money if you're looking for reliable VPNs that work and that are budgeted. Furthermore, you can use any VPN server you want to stream your favorite regional content.