Many review sites claimed that DVDFab DVD Copy Software is the best DVD copy software in the market. Our genuine review revealed everything.
Some of you may think that DVD related software is no longer needed but do you know that you can use the DVD ripper to rip a DVD to the digital format, or you can backup the entire DVD with the DVD Copy software.
Out of many DVD backup programs in the market, the DVDFab DVD Copy is one of the best DVD copier software. If you still doubt, you should read this review article to thoroughly understand the features, pros, and cons of this program.
This is my personal review after using the DVDFab DVD copy software. So, read on to find out more.
The Features of DVDFab DVD Copy SOFTWARE
The following are some of the significant features of this DVD copy software:
Copy/Backup Discs By DVDFAB DVD COPY SOFTWARE
This program even allows you to write custom data to the disc that doesn't have anything to do with a DVD. This is a pretty cool option for people who like to create truly customized discs.
It can also copy/clone/rip/decrypt all DVDs and Blu-ray discs, including scratched or damaged discs. If you have some DVDs that are badly scratched or are damaged goods, this software may help.
It has technologies in place that can read damaged discs and create a new disc without any defects. This software can make a brand new DVD collection out of a damaged lot in no time flat!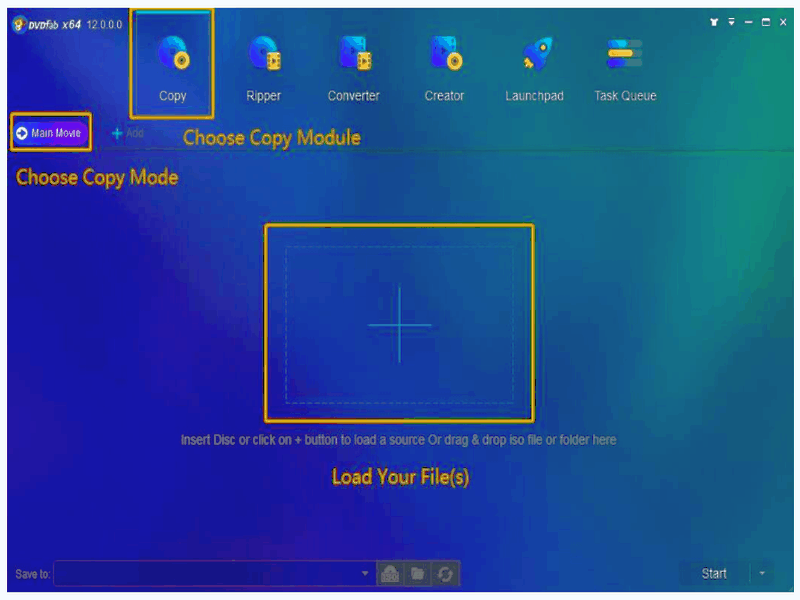 Eight Different Copy Modes
You can choose between 8 different copy modes, including Full Disc, Main Movie, Split, Merge, Customize, Customize Split, Clone and Write. You can choose the intended copy mode as needed when you are copying different types of discs.
For a newbie, you can choose the full disc that directly duplicates the entire disc to a new DVD. This is also one of the most suitable options.
Ability to Remove Copy-protection
Copying DVD content with this software also effectively removes all content protection inherent to the original disc. So if you are worried about CSS, ARccOS, UOPs, RC, CPRM, CPPM, RCE, APS, RipGuard, CORE X2, FluxDVD, and other protection measures, worry no more.
They are a matter of the past with this software. You can enjoy your DVDs without worrying about having to bypass content protection because this software does it for you automatically.
You also don't have to annoy about the future or the latest copy-protections that come out. DVDFab stays on top of the latest technologies and adds removal technologies to keep your copied DVD collection protection free!
The above are the three main features of DVDFab DVD Copy software that make it set apart from similar programs. Let's check out what I like and dislike about the application.
Also Read: FEATURES OF THE BEST PORTABLE DVD PLAYER FOR TODDLERS – BUYING GUIDE 2021
What Do I Like About DVDFab DVD Copy Software?
I like DVDFab DVD Copy suite because it effectively does what it sets out to do.
A stable program that can make perfect copies of all DVD and Blu-ray discs.
It conveniently removes the copy protection and allows you to make copies of those copies if you wish.
You'll also never have to fret about scratching your favorite movie discs and never having access to them again. This software is the solution to all that.
The copy speed is breakneck. You can get a whole slew of movies done in a day of copying. In just one day, you could have an entirely new movie collection that can be replicated again and again.
The software is straightforward to use, learn and navigate. Newbies can learn how to use this software in just a day, while people with some experience in the area of DVD copying can learn how to master the software.
It can burn to any blank DVD without trouble. The default settings of the program are sufficient for most people.
It also comes with a full year of updates and upgrades free of charge! That means for the entire year, and you will have access to the latest software license.
The support team is excellent, and you can always get the latest updated version of the software if you purchase it.
What Do I Not Like About DVDFAB DVD Copy Software?
The price of the software is slightly higher than other similar programs.
The free trial version only allows you to copy up to 3 discs, but at least you can try all of their program features.
That's about all there is to complain about in this software package, but consider the pros and cons, I would say that this is excellent software.
Should You Buy It?
People who need a way to make perfect DVD copies every time should buy DVDFab DVD Copy software. It would make definite sense for anyone who needs their DVD's copied quickly to purchase this software. Lots of people have tried it and loved it. The software itself is straightforward to use, and even a beginner can get the hang of it on the first day.
Yes, you should buy this software package. It has everything you need to make the copies you need so that your DVD collection doesn't get damaged beyond all repair. That would leave you with no recourse except to purchase the DVD again, and nobody wants to do that.
Do yourself a favor and purchase it, you get a free year of upgrades along with it, and the program will stay useful even for a while after you can't upgrade it again. This program will save you much more money than you spend on it, and you can always purchase the new version when it comes out.
Conclusion
There are many DVD software in the market that can help you do the CD/DVD backup or digitize the DVD contents, and some are freeware while other is shareware.
The DVDFab DVD Copy is one of the top paid DVD copying software that you can rely on. If you are thinking of getting a program to backup your DVDs, this software can be ideal. It has all the great features that you need to do all the DVD copying needs.
Must Read: WHICH ONE IS THE BEST 8GB LAPTOP IN 2020
Featured Image by PublicDomainPictures from Pixabay