There are generally three kinds of printer problems with refilled cartridges that a user faced while printing.
The first one is when Green is printed as blue & orange as red. In this case, you are out of yellow ink, or the flow of ink is blocked or restricted due to some reason. Recheck levels of yellow ink and refill if required.
In the second case, orange appears as yellow or violet as blue. In such a situation, you might be lacking, recheck the magenta ink levels or blockage that restrict proper flow of ink. Make sure the proper level of ink or refill is found empty.
The third case prints green as yellow violet as red, cyan ink cartridge might be finished, or blockage is restricting the flow of ink.
Note: Information is provided by SuperImageLtd; they buy printer cartridges at the best prices. You can contact to sell unused ink cartridges.
Other Common Printer Problems With Refilled Cartridges related to ink
Brown or Dirty Colors
Printer problems with refilled cartridges are common. In this case, every color appears to be brown or dirty. It might be due to the addition of wrong ink in the cartridge or inks that have been mixed in the chamber during the filling process.
It is better to discard the cartridge or print various copies of a page to consume the ink in such a situation. After the ink is consumed, refill the cartridge with little care.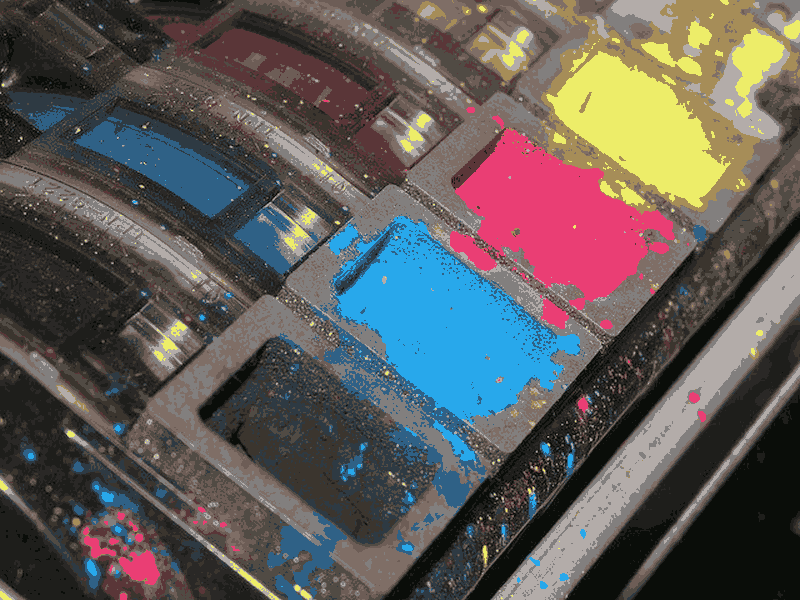 The appearance of strange colors on Printouts
Inappropriate ink in the wrong cartridge can cause this. Still, there is another possibility that software might not be correctly updated or installed to cross-check or rectify access to printer Settings and make any change to see if that adjusts the appearance of colors.
In case you have not seen any betterment in the color scheme, it's better to revert the setting to its default. This also confirms that the problem lies with the ink in the cartridge. When printer problems with refilled cartridges happen; in such a situation, it's better to flush out the cartridge and then refill.
streaks with partial printing of letters
One of the most common printer problems with refilled cartridges. Due to partially clogging in the printhead causes this. Access to the printer's Maintenance Tab and conduct a Head Clean and Nozzle Check.
If the problem is not sorted out, then the next step is to remove the printhead and wipe the printhead or soak it in a minimal amount of warm water. But this procedure can be done with cartridges having disposable printheads. Avoid this in case your print head is a fixed part of your printer.
Missing printing on substitute length
These printer problems with refilled cartridges due to the reason that printhead is not getting enough ink. (when it comes to HP cartridges, this is due to the generation of foam by the small amount of remaining HP ink in the cartridge during the first refill.
This problem can be rectified with the second refill as refill ink flushed out the OEM Original HP ink. In other cartridges, this problem usually appears when shallow ink is getting to the printhead.
Printing started Again after missing some pages
These printer problems with refilled cartridges occur due to airlocks in sponge-filled cartridges. Go to the manual to sort out this issue or General Filling Hints for sponge-filled cartridges.
Nothing appears on the Printing page
This problem is reported very commonly with specific cartridges, like reservoir-only cartridges designed and developed by Canon and Epson. The first reason will be that ink might not be accessing the exit of the cartridge.
To rectify this issue, hold the cartridge upside down and inject ink into the sponge via an ink exit hole. There might be an air bubble within the bottom of the sponge and printhead. This can block the ink flow. To remove the air bubble, see General Refilling instructions.
Also Read: Best Laptops Under 50000 Rs In India, 2020
How to Save Money on Printing
Apart from the printing capacity of the ink cartridges, you ought to likewise consider the innovation utilized on the printer. The price of laser printers is comparatively higher than inkjet printers, but if a larger perspective, the laser printers are financially savvy over a long period.
There is no doubt that Laser printers have a higher page printing capability cartridge than inkjet printers. On the other hand, you are supposed to select a printer containing separate tanks for each color compared to others having a printer with one tank for black and one tank for colors.
Use Printer Intelligently
It sounds ridiculous to use this tip. Moreover, it's wise to print a record when it is needed only. By doing so, you can enhance the lifetime of ink cartridges. On the other hand, if you left the printer idol for a more extended period without printing anything, then the may evaporate, so make sure that you print something no matter at any rate once per week.
While printing, certain tricks can enhance printing production, like selecting greyscale rather than full dark shading. By doing so will affect the quantity of black ink only and reduce the burden from other inks.
The best feature of this trick is that the cost of black. This question might be raised in your mind that despite using printers in almost every sector of life, why are printers so cheap.?
Manufacturers and suppliers intentionally keep the costs of their printers low. The primary purpose behind this is that they believe in compensating for their benefits with ink cartridges' cost. If you see it from a business point of view, it makes sense.
When you purchase a printer model, you emphasize buying the printer ink cartridges unambiguously made for it, irrespective of how costly they are. Various other options can lower the expenses related to its cost. Generally, two main tips lower your expenditure related to the ink cartridges.
Selection of Printer Intelligently
Before deciding about purchasing a printer, it is highly recommended to research the availability and cost of your ink cartridge. This is the absolute first step toward saving money on a printer.
An ink cartridge that comprises so much ink can print similarly the same number of pages as an ink cartridge with a large portion of the measure of ink as the first.
Instead, it would help if you glanced at the printing page production capacity of every cartridge. Selecting a printer having cartridges available quickly in the market will lower the overheads related to your printer.
Think about Your Choices
Cost of black ink is comparatively less than other color inks. Maintaining the data will also help you conclude the average number of printing done by cartridges after refill. It will also help you to monitor the efficiency of cartridges and printers. SuperImageLtd.com is buying unused ink cartridges and unused toner cartridges at the best prices.
Must Read: Why People Like DARK MODE APPS In 2021?