Travel tech gadgets have been a great way since the days of a rubber sink, and several adapters in your suitcase are floating loose. It's never easy to prepare for a holiday, and you always forget something. But you always want that your journey is easy and goes smoothly. All you need is a couple of these beautiful travel tech gadgets to make your vacation more straightforward than ever before.
Every other person travels for a different reason, and it has its perks. There are many advantages to traveling. It's always an experience that changes lives. In many aspects, traveling is the best activity anyone can do, and it helps you feel relaxed.
You get an opportunity to do things you never did before, meet new people, eat various types of food and experience various cultures. Some like to make their trips easier and capture their moments.
Technology and innovation make your holiday more pleasurable, organized, and enjoyable, with so much travel gear. We wanted the top travel devices in 2021 to be on this list to make your life much easier. Get any traveling bags from Hobo for your trip. You can also use Hobo bags coupon for amazing deals and discounts on your purchase(s)
13 Best Travel Tech Gadgets You Must Carry While Traveling
1. PowerCore 20100 Power Bank
Have you ever gone to a coffee shop specifically to get a charger for your smartphone? All you must do is buy this excellent power bank because no one wants to carry around a phone with no battery.
But now, you won't have to get tensed about missing your calls or freak out when you haven't updated your social media. And it is always safe to bring an external battery on your trip. So, it is one of the greatest travel tech gadgets to travel with.
2. GoPro Hero 9
GoPro's new 4K sports camera is waterproof and has voice control. Along with a shake-free touch screen display with built-in time-lapse, hyper-lapse, and time warp modes, it's so stable that you won't even need a gimbal. Do you want to buy an action camera? Well, don't wait and get a GoPro Hero 9 now!
GoPro has taken it to a new level with the Hero 9 Black. With 5K video, 20MP stills, a front and back screen display, it gives you 30% more battery life. This is one camera you'll want to bring with you on your travels.
3. USB Headlamps
Even with built-in flashlights in their smartphones and power banks, many people still choose headlamps. Why? Because they are fully hands-free with headlamps.
These headlamps are also used for night sky photography that gives an ideal beam in the surroundings. It gives a light effect in the night scene since the beam from the lamp is brighter. Many people choose this Black Diamond model since it is rechargeable.
Also Read: AirPods 3 Features, Specification, Price – Buyer's Guide
4. Portable Wi-Fi Hotspot
If keeping connected to the internet while traveling is essential to you, purchasing your wifi hotspot gadget is a no-brainer.
There are two sorts to pick from: those that require you to insert a local data sim from the country you're going to and those that come with pre-paid data (as selected by country). So, it is one of the greatest travel tech gadgets to keep with you.
5. OVO Travel Size Iron Steamer
The small device is roughly the size of a computer mouse and can be highly beneficial for business travelers who need to remove creases from their clothing.
This two-in-one appliance that only weighs 1.6 pounds is both an iron and a steamer. It performed admirably in our Cleaning Lab testing; but, if you need to de-wrinkle an entire garment, allow extra time.
6. Noise Canceling Headphones
Are you tired of long flights? Your eyes are red, and you feel uncomfortable? Buy Noise Canceling Headphones; they will make it all bearable.
It is a lot easier, with these headphones, to watch an in-flight movie. It also includes a cable for use with the plane's audio jack.
Also Read: Features Of The Best Portable DVD Player For Toddlers – Buying Guide 2021
7. Water Purification Device
When it comes to tools to take with you while traveling, water filtration is probably the last thing on your mind. However, because of technological improvements, we can now carry something like the SteriPen.
To kill 99.9% of those nasty microorganisms, it uses a state-of-the-art water sensor and UV technology. It is battery-operated and small enough to fit in your pocket. This piece of technology is popular since it is chemical-free.
8. USB Rechargeable Batteries
In an ideal world, we'd be able to charge everything using USB/mains electricity, and while we're moving closer as a society, some items still require batteries.
You may help the earth by purchasing some of these fast-charging, environmentally friendly USB rechargeable batteries.
9. Travel Pillow
Everyone has tried sleeping on planes, right? And you know that it is difficult to feel comfortable. According to the director of the textile at Good Housekeeping Institute, Lexis Sachs, travel pillows are the best.
It has a strap that attaches to the plane's seat and stops your head from slipping sideways. Gives you better sleep on the plane.
Also Read: Features Of The Best Portable DVD Player For Toddlers – Buying Guide 2021
10. Bluetooth Speaker
It is one of the greatest travel tech gadgets. With these compact, portable Bluetooth speakers from Ultimate Ears, you can listen to your favorite music wherever you are.
This speaker charges through USB and has a 66-foot connection range and up to 15 hours of gameplay, making it the ideal travel companion.
Add in the fact that it's waterproof and can play music while floating, and you've got yourself one of the finest vacation gadgets for pool parties or floating in the ocean!
11. Smart Carry-on Suitcase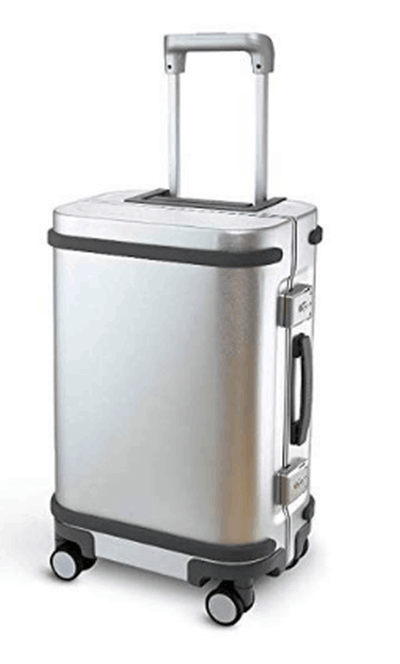 Samsara is for individuals who wish to appear and feel different! What parts do you look for in a suitcase? Style, Design, Preference, or requirements?
This futuristic carry-on is made of lightweight aluminum alloy and is stylish, small, and packed with tech capabilities. A built-in LED light illuminates the inside that turns on when the bag is opened in poor light.
The flat top of the bag may be used as an easy working surface while traveling, and the removable power bank with a USB-C connection can charge a mobile device up to 10 times.
The luggage is also fireproof, recyclable, and comes with intelligent tracking software that lets you know wherever it is at all times and when and where it is opened while you are away.
12. Pocket-Sized Washing Machine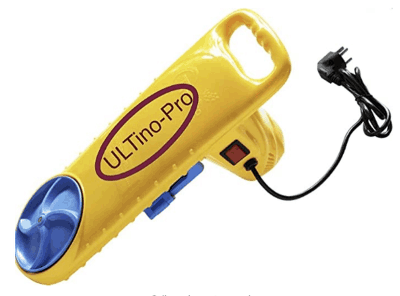 You'll adore the Scrubba Wash Bag whether you're backpacking through anywhere. This lightweight and pocket-size wash bag will not only help you do your laundry on the go but will also protect your money and time. And it comes with a flexible washboard.
In less than 3 minutes, you may have your clothing fresh and clean using only 2-4 liters of water and a small amount of washing liquid. So, yes, we believe it is one of the greatest travel tech gadgets for campers, hikers, and anyone straying off the main road.
13. Convertible Backpack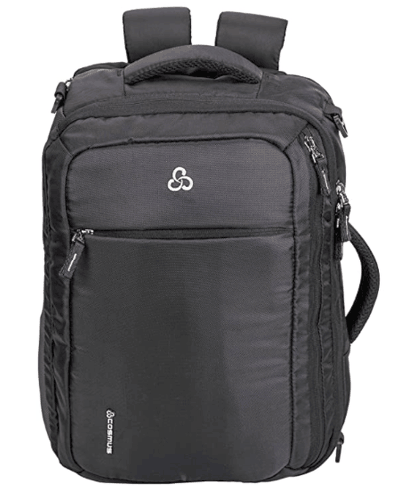 Who says a bag has to be unmanageable and uninteresting? The Aer Flight Pack 2 is made of 1680D Cordura ballistic nylon and is both sturdy and functional. And not to mention slim, compact, and carry-on acceptable.
It is built, keeping professionals in mind, with an intelligent and versatile design that turns it into a backpack-to-shoulder bag to a briefcase in seconds.
This convertible has room for all sorts of your work and to keep any tech essentials. You can adequately organize them within the multiple pockets and compartments. It can be handled as a daypack or a good flight companion.
Conclusion
It is always better to travel safe and with these travel tech gadgets that would help you throughout your journey. Here we have set together a list for you, so you don't have to worry a lot while packing for your traveling. Have a safe journey!
Featured Image by patrick mbugua from Pixabay