With the modern advancements in technology around us, we're not new to the VPN age. In fact, you've probably seen VPN advertisements on more than two websites you've visited. Have you ever wondered how those VPNs are? Ever felt the need to invest in one? Well, before you buy any VPN, you must test it or go through reliable VPN reviews. Similarly, in this iProVPN review,
I'll be testing the entire VPN to make sure it really lives up to expectations. So far, I've come across some really good iProVPN review results, but I need to test the VPN to come to a conclusion.
There is a sudden spike in cybercrimes today, and it is so important to take every precautionary measure into your control. It's easier said than done, which is why testing iProVPN helps.
There are numerous cyber threats to stay vary of, and not all VPNs are able enough to give all-round protection, let alone are reliable enough.
iProVPN has been in the market for a little over a year but has managed to get quite a good traction. But is iProVPN safe enough to maintain online security and privacy? Could you take a look below at iProVPN review what I got so far?
Short on time? Here's an abridged iProVPN review
Yes, iProVPN is safer than most VPN providers. The service uses AES 256-bit encryption and highlights access to some of the best VPN protocols shaped for faster speeds and secure connections. Among its list of features, it sports a Kill Switch that you can enable from the app itself and a Split-Tunneling part to add a personalized preference of apps through the VPN tunnel. Apart from security, what I appreciated was that iProVPN takes online privacy seriously. Firstly, the company is headquartered in the British Virgin Islands, free from data retention laws, and its strict no-logs policy is the cherry on top.
iProVPN isn't all that expensive, especially since its 2-year plan is discounted, costing around $2.1/mo. You don't need to dive right into settling since the provider offers a 30-day money-back guarantee. You can use that to hack a free trial.
The network coverage at first glance wasn't to my liking since I prefer VPNs with a more extensive network of servers. However, after having tested many VPNs, not all providers with larger server counts were reliable. IProVPN offers only 250+ servers in 20+ locations, and to my surprise, unblocked most streaming services that are high in demand. However, the results always vary between users, which is why besides this iProVPN review, you need to test the VPN on your own.
To name a few, I got access to a couple of Netflix libraries, Hulu, Hotstar, Disney Plus, Sky Sports, HBO Now, and others. Even though the speeds weren't the fastest, I didn't encounter buffering issues. All-in-all, iProVPN has a TrustScore of 4.8 stars on Trustpilot, which means they're definitely doing something right.
Also Read: DVDFab DVD Copy Software Review 2021
Is iProVPN safe for online protection?
As mentioned above, we're mainly looking to check if iProVPN takes online security and privacy seriously. Most VPNs claim to offer the best security features, but when I run some tests, either my internet crashes or the VPN leaks my original IP.
In this way, I had to be extra careful and run iProVPN through a series of tests. Apart from that, the security of a VPN also depends on its location and whether or not it logs user data. The good news is that iProVPN is located in a region free from the 14-eyes jurisdiction that is usually under online surveillance. To add to it, iProVPN also doesn't log user data. So, suppose a governmental body or kind ever asks for user data. In that case, the provider itself won't be able to hand anything in since there is no data logging to begin with – at least nothing of significance. The only thing they log is minor information like an email address, which you could also use fake identification to sign up for the service.
Here's an excerpt from the iProVPN no logs policy:
"iProVPN is committed to user privacy. We do not store logs to identify a user's activity while using iProVPN. Logs refer to information such as IP address of the user, DNS queries, timestamps of VPN connections, and the duration of the VPN connections."
So yes, iProVPN is safe to use, but can it also at the same time provide features that can further enhance the overall security online? Please take a look at what it offers below.
Also Read: Top 20 Best Cup PHONE Holder Mounts In 2020 Reviews
iProVPN encryption and features
iProVPN is located in a safe region, and at the same time, offers adequate security features for online protection. I conducted a few tests to check whether the VPN was leaking DNS, IP, or webRTC. The results were quite desirable.
To check the IP leak test I connected to the Netherlands server: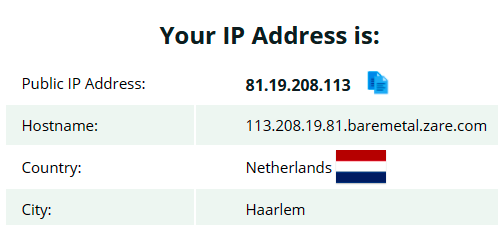 For the DNS leak test, I connected to the Netherlands server:

To check the webRTC leak test I connected to the Netherlands server: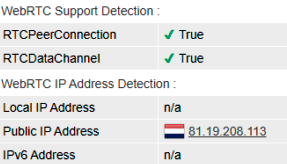 As you can see from the statements above, iProVPN did not leak data. Other than that, the app operates using AES 256-bit encryption to keep your connection private and secure. These can be matched with OpenVPN, IKEv2, IPSec, PPTP, L2TP, and OpenConnect protocols. You can manually configure them from the app. Other iProVPN security features include:
A Kill Switch
Split-Tunneling
Ad-Blocker
Smart Connect
DNS and IP leak protection
Malware protection
Unlimited bandwidth
Also Read:
Is iProVPN affordable?
Yes, cheaper than most. Here is how much iProVPN costs:

The monthly plan costs around $10, which might seem a little overpriced to some users, but it's still $2 less than other VPNs on their monthly plans. However, if you find this over your budget, iProVPN also has an affordable 2-year plan that costs just $2.1/mo.
There is no free trial; yet, you can still use the iProVPN 30-day money-back guarantee to run some tests. If you don't like the service, ask for a refund! However, make sure you checked the terms and conditions first.
Also Read: Top 5 Trending Shows On Netflix – Updated 2021
Can I unblock Netflix and other international services with iProVPN?
Yes, you can. I mentioned above that at first glance, the iProVPN network coverage didn't seem all that appealing to me, mainly because it only offers around 250+ servers in 20+ countries. However, after testing most of the servers, I can say that I stand corrected. I got access to a few of the more popular services that are subjected to geo-restrictions. Here are a few of them that worked:
US Netflix
UK Netflix
Amazon Prime
Comedy central
HBO Now
DAZN
Disney Plus (US and UK)
Hotstar
Hulu
Sky Sports
AE TV
Food Network
The speeds were not all that fast, but the main highlight is that I didn't experience buffering issues while watching any of the movies and TV shows. There are probably other media content apps or websites that iProVPN works with, but you still need to find the best server according to your location, as that is the standard with every VPN.
Also Read: Instagram Music Not Working: 6 Steps To Follow To Fix It
iProVPN app support
The average person uses two or three devices at the least, which is essential for a VPN to offer apps that are compatible with these devices. The good news is that iProVPN does offer apps for most of the widely used devices or operating systems. Here's a list of them:
Windows
Android
macOS
iOS
Linux
FireTVstick
Nvidia Shield
Roku
Chromebook
Routers
Smart TVs
Also Read: Why Are Security Protocols Necessary For Secure Online Activities?
To conclude – what's the verdict?
iProVPN is not the best out there, but it certainly works better and smoother than most VPNs I've tested before writing this iProVPN Review. Since it's been in the market for only a short time in VPN years, it still works like a charm. Yes, there are some areas that need work, but I guess more updates and fixes will come along soon! All in all, it's affordable, it works, and it's secure.
Must Read: Is Using A Business VPN A Downfall For Success?
Featured Image by Dan Nelson from Pixabay